In Memory
Jesse Cosme VIEW PROFILE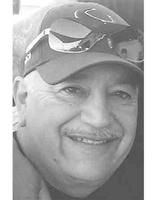 Jesse Rivera Cosme
Jesse Rivera Cosme was born July 29, 1959, in Angleton, Texas, and passed away peacefully at his home surrounded by his family on Monday, November 14, 2016.
He was preceded in death by his father, Jesus Cosme.
He is survived by his mother, Amada Cosme; and his life companion, Gloria Billingsley; his children, Jerry Cosme (Angela), Nikki Patrick (Joe), Jermaine Cosme (Alma), Lexi Shannon; as well as his grandchildren, Andrew Cosme, Mason Patrick, Tucker Patrick, Aliya Patrick Cosme, Logan Patrick, Jesse (JJ) Cosme, Jeremiah Cosme, Natalie Rodriguez; brothers, Larry Cosme, Mike Cosme (Bonnie), James Cosme (Mary); sisters, Janie Langford (Lloyd), Angie Endersbee (Mike), Julie Villarreal (Anthony).
Jesse had a Heart of Gold, he was full of life. His big smile would always light up the room and he was the life of the party. No matter where Jesse would go he would make friends. Jesse (Wello/Pop) loved spending time with his grandchildren. He loved to spend time with his family and friends barbecuing and watching his favorite team the Houston Texans. His favorite saying was, "What time is it? Texan Time!"
Jesse loved God with all his heart. Jesse was a loving father, son and brother who loved his family dearly. He will be greatly missed and will forever be in our hearts.
Jesse's family would like to thank the Theriot family for all their help and would also like to thank everyone else for their prayers and support.
Funeral services will be held at 10:00 a.m., Friday, November 18, 2016, in the Palms Funeral Home Chapel. Burial will follow in the Angleton Cemetery.
Visitation will be Thursday evening from 4:00 until 8:00 at Palms Funeral Home.
Pallbearers will be Jerry Cosme, Jermaine Cosme, Ray Langford, Freddy Santos, Larry Cosme Jr., Joshua Cosme.
Honorary Pallbearers will be Michael Langford and James Cosme Garcia.
Arrangements by Palms Funeral Home Online condolences for the family may be sent to www.palmsfuneralhome.com.
https://palmsfuneralhome.com/book-of-memories/2771627/Cosme-Jesse/service-details.php
Click here to see Jesse's last Profile entry.