In Memory
Mitzi Dean (Markwardt)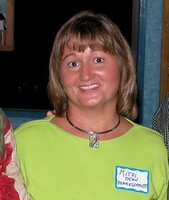 Mitzi D. Markwardt
Mitzi D. Markwardt, 48, of Clute passed away Wednesday, October 28, 2009, after a courageous battle with breast cancer. She was born November 13, 1960, in Winters, Texas, to Graydon and Annette Dean and loving sister of Mark and Sherri Dean.

Mitzi was a lifelong resident in the Brazosport area. She was a member of St. Mark's Lutheran Church in Lake Jackson. She worked in purchasing for the BISD food department.

She is preceded in death by her father, Graydon Dean.

She is survived by her husband of 30 years, David Markwardt of Clute; two daughters, Deana Markwardt of Angleton and Devan Markwardt of Clute; mother, Annette Dean of Brownwood, Texas; brother, Mark Dean and wife, Phyllis, of Clute; nephew, Brent Dean of Lake Jackson, and niece, Elizabeth Dean of Clute, Texas; father and mother-in-law, Calvin and Joanne Markwardt of Clute; sister-in-law, Karen McGehee and husband, Ken, of Clute; nephews, Jamison Keith and Shayne McGehee and wife, Lesley; and one niece, Amber McGehee.

Family will receive friends 6 p.m. until 8 p.m. Friday, October 30, 2009, at the Lakewood Funeral Chapel and 9 a.m. until service time Saturday, October 31, 2009, at the church.

Funeral services will be 10 a.m. Saturday, October 31, 2009, at St. Mark's Lutheran Church in Lake Jackson with Pastor Steve Larsen officiating.

Pallbearers will be Brent Dean, Jamison Keith, Andrew Jimenez, Shayne McGehee, Deke Lopez and Rowdy Lopez.

The family requests in lieu of flowers for donations to be made in name of Mitzi Markwardt to M.D. Anderson Cancer Center, P.O. Box 4486, Houston, Texas 77210; Houston Hospice, 1905 Holcombe Boulevard, Houston, Texas 77030-4123; or the charity of your choice.

Mitzi always will be remembered as a loving wife, mother, daughter, sister and friend to all who knew her.

Local arrangements by the Turner Family at Lakewood Funeral Chapel. Online condolences may be made at freeportlakewoodfuneralhomes.com.