In Memory
Reba Dye (Green)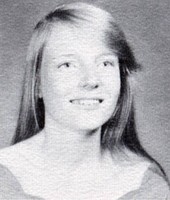 Posted: Tuesday, July 24, 2012 2:00 am
Reba Dye Green, 51, was born in the Freeport Community Hospital on February 10, 1961 and passed away Friday, July 20, 2012. She is greatly missed by all who have been blessed to have known and loved her. Reba loved animals and had a unique bond with them. She was an animal trainer and rescuer who could befriend even the wildest animal and communicate with them on their level.
Reba was one-of-a-kind. Everyone she met was a friend. She could talk easily with anyone and she left a lasting impression. If you met her once, you would remember her forever.
Reba is survived by her loving husband, Tommy Green, of Rosharon, Texas; her parents, Duane & Sara Dye of Sylacauga, Alabama; sister, Teresa Harrison McGee, and brother-in-law, John McGee, of Danbury, Texas; brothers, Alan Dye, of Sylacauga, Alabama and Jerry Dye, of Churchill, Texas; niece, Jennifer Harrison, of Webster, Texas; her former in-laws, James Harrison and Norma Elowese Eaker Harrison, of Churchill, Texas; and her current in-laws including sister in-law, Jamie Savoy and family, of Freeport and Mrs. Ruby Green and family, of Angleton; as well as her extended family member and best friend, Shannon English of Rosharon.
Visitation will be at Palms Funeral Home in Angleton on Tuesday, July 24th, 2012 from 4:00 to 8:00 pm.
Funeral service will be held on Wednesday, July 25th at 7:00 pm, given by Pastor and brother-in-law, Jack McKinney Jr., of Conroe, TX.