In Memory
Jean Hickner (Putman)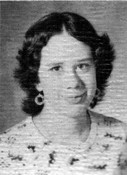 Jean Putman passed into eternal peace on March 22, 2007, at her home in Lake Jackson. She is survived by her four children, Nicole and Paige Poulsen of Lubbock, Texas, and Robert and Charles Poulsen of Lake Jackson.

Jean was born in Midland, Michigan, to Richard and Doris Hickner on March 11, 1961. The family came to Lake Jackson in 1972. Jean and her siblings attended BISD schools. She is survived by four brothers, Matthew Hickner of Houston, Andrew Hickner of Medina, Texas, Allan and Edward of Lake Jackson; her parents; and two sisters, Bridget Carroll of Fort Smith, Arkansas, and Kristen Hickner-Damian of Pasadena, Texas. At various times in her adult life, she was employed in various area businesses.

She was preceded in death by her husband, Dan Putman, in 2005.

Visitation is being held 6:30 to 7:30 p.m. Thursday, March 29, 2007, at Lakewood Funeral Home, followed by a family prayer service.