In Memory
Gary Kavanaugh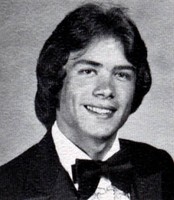 Gary Kavanaugh, 51, of Tyler, passed away on September 26, 2012 at his home. Mr. Kavanaugh, an account manager for Tyler Beverages, was born on October 16, 1960 in Houston. He grew up in Lake Jackson and attended Sam Houston State in Huntsville, where he received an Associate's Degree. He enjoyed hunting and fishing.

He is survived by his son, Clint Kavanaugh; daughter, Kayla Kavanaugh, their mother, Janet Kavanaugh, all of Van; his father, John O. Kavanaugh of Tyler and brother, David Kavanaugh of Hercules, CA.

Visitation will be held from 6:00PM-8:00PM, Sunday, September 30, 2012 at Tyler Memorial Funeral Home, 12053 State Highway 64 West, Tyler. Funeral Services will be held at 11:00 AM, Monday, October 1, 2012, also at the funeral home. Entombment will follow in Tyler Memorial Cemetery.

Arrangements are entrusted to Tyler Memorial Funeral Home and Cemetery.