In Memory
Darryl Kessner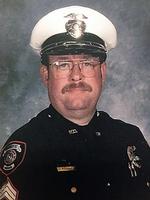 Darryl Ray Kessner, loving father and Pops, passed away February 19, 2020. Darryl was born to Daniel and Patricia Kessner on December 28, 1960 at the Dow Hospital in Freeport, Texas.
Darryl was a law enforcement officer for the Brazoria County Sheriff's Office, Clute Police Department, and Hedwig Village Police Department, totaling 33 years. Darryl enjoyed spending time outdoors, hunting and fishing, and spending time at the gun range. He was a member of the Fry Road Church of Christ in Katy, Texas, but on weekends visited the Clute Church of Christ where his parents attend. He loved being a police officer and helping others. He never knew a stranger and everyone who met him, made a new friend. His advice and words of wisdom were hard to beat. He loved his family dearly, and above all, put his Lord and Savior first.
Darryl is preceded in death by his Grandparents, Ernest and Velma Kessner; and Grandparents, Rudolph Kindt and Bertha Mae Kindt Prather, and Bill Prather.
He is survived by his daughter Katharyn Kessner Boudreaux and her husband Cole Boudreaux; Grandson Landon Boudreaux; Brother, Dewayne Kessner; Parents, Daniel and Patricia Kessner; and the mother of his daughter, Carrie Kessner.
A Gathering to Share Memories of Darryl will be held at Restwood Funeral Home in Clute, Texas on Friday, February 28, 2020 from 6:00 p.m. to 8:00 p.m. A Celebration of Darryl's Life will be held at Restwood Funeral Home on Saturday, February 29, 2020 at 10:00 a.m. The graveside service will be held immediately following the Celebration of Life service at Restwood Memorial Park.
Serving as Pallbearers are Cole Boudreaux, Steven Coker, Kevin Munley, Wesley Cromer, Clay Johns, and Steve Geraci. Serving as Honorary Pallbearer is Landon Boudreaux.
https://www.dignitymemorial.com/obituaries/clute-tx/darryl-kessner-9044077