In Memory
Johnny Matthews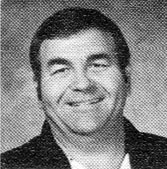 Johnny M. (Coach) Matthews, 75, of Midway, Texas, formerly of Lake Jackson,
Texas, passed away September 1, 2010 at Conroe Regional Medical Center
Hospital in Conroe, Texas. After a lengthy illness, he died of respiratory
failure and lung complications.
He was born in Mineola, Texas on November 4, 1934 to Alton Matthews and
Hazel (Trapp) Matthews.
He was preceded in death by his parents; one brother; three sisters; and
two nephews.
Johnny is survived by his loving family; his loving and devoted wife of 52
years, Pat; his two sons, Kyle and wife, Jamie, of Huntsville and Kevin and
wife, Trisha, of The Woodlands. He is also survived by five grandchildren,
John and Jeremiah Matthews, of Huntsville, Brennan, Reese and Brayden
Matthews, of The Woodlands; and two bonus grandchildren, Cami and Colin
Thompson, of The Woodlands.
All these grandchildren were the highlight and focus of his life, and he
loved them dearly.
Other survivors include two nieces, Sherri Kopp, of New Caney, Gayenelle
Fenley, of Conroe; and a nephew, Scott Stephens, of Conroe. In addition to
two special cousins, Crystal Ashley, of Freeport and Stan Matthews, of
Hutto; he had numerous great nieces and nephews. His many special friends,
coaching associates, former students and players were all dear to his
heart.
He graduated from Lufkin High School in 1953 where he played football which
led to a scholarship at SFA. After lettering for two years, he then
attended SMU in Dallas, but returned to Stephen F. Austin University and
received two degrees, a Bachelor of Business Administration and a Bachelor
of Science.
From 1962 until 1969, Johnny taught and coached in West Columbia, Texas.
His duties included Varsity Head Track, JV Head Coach and Varsity Assistant
for the West Columbia Roughnecks Football team. Then in 1969 with the
opening of the new Brazoswood High School in Clute, Texas, he became a
classroom teacher, Varsity Head Track Coach and Varsity Assistant Football
coach for the Brazoswood Buccaneers. The Brazoswood coaching staff and
families became his family, and the most memorable highlight was winning
the State Championship Football title in 1974. Another opportunity opened
for him in 1982, when he became the Head Football Coach and Athletic
Director for the East Chambers Buccaneers in Winnie, Texas. In 1987 he
returned to Brazoswood as Head Football Coach for three seasons, and then
retired in 1992 after 30 years in education and coaching. After moving to
Midway in 1998, his next adventure in his life was becoming a hands-on
grandfather and rancher. Then he was simply known as "Paw Paw". His
happiest moments were visits to the farm from his family and grandchildren.
He also loved all his animals and especially his dog, Bear.
We celebrate his life as a faithful servant to and believer in Christ with
a Memorial at Day Funeral Home Chapel in Madisonville, Texas on Saturday,
September 18, 2010, at 2:00 p.m. Visitation will follow in the funeral
home. All of his friends and loved ones are invited to attend.
Johnny was a member of the First United Methodist Church in Lake Jackson, a
25 year member of the Texas High School Coaches Association, Texas Retired
Teachers Association, and the American Limousine Cattle Association.
Contributions in honor of Johnny may be made to the American Lung
Association; 1301 Pennsylvania Ave. NW #800, Washington, DC 20004.